NOTICE

Return of Craft Personal Belongings and Tools

Membership Notification Regarding Dues

Click here to view the important notification regarding Union Dues



IMPORTANT NOTICE TO MEMBERS

Any member of Ironworker's Local 764 that has been affected by the CRA re-assessment of Cahill/NECL, it is important that you contact the Ironworker's Union Hall by phone (709) 747-2111 and leave a message providing your name, phone number and an email address where we can forward any information regarding this issue, should there be a need to do so.

It is important that we put together a complete and exhaustive list of all those that have been affected. Even if you have previously contacted our hall, please do it once again to ensure that we have everyone included.

It is your own responsibility to appeal personally and we strongly urge you to do so.

Results of 2019 Ironworker's Local 764 election





PRESIDENT:


Larry Hawco - By acclamation



VICE PRESIDENT:


Bill Costigan - By acclamation



BUSINESS MANAGER:


Tom Woodford - elected (548 votes)
Joe Lewis - (174 votes)
John Dalton - (149 votes)



BUSINESS AGENT:


Francis Simms - elected (377 votes)
Dion Humphrey - (251 votes)
Chad Walsh - (241 votes)



RECORDING SECRETARY:


Gerald Lane - By acclamation



EXECUTIVE:


Bob Gushue- elected (485 votes)
Don Lewis - elected (453 votes)
Don Dalton - elected (416 votes)
Mike Barron - elected (363 votes)
Clarence Hynes - elected (362 votes)
Maurice Hearn - (327 votes)
Barry Doyle - (308 votes)
Michael Woodford - (306 votes)
Kim Roche - (298 votes)
Shawn Whalen - (280 votes)



POSITIONS BY APPOINTMENT:





EXAMINING COMMITTEE:


Gerald Lane
Francis Simms
Robert Gushue
Kim Roche
Don Lewis



TRUSTEES:


James Lewis
Shawn Whalen
Michael Woodford



CONDUCTOR:


Kim Roche



SERGEANT-AT-ARMS:


Barry Doyle

Congratulations to all the winners and a big thank you to all who ran and put themselves forward for the Executive.


Please be advised that the Ironworkers Education and Training Center is offering the following government sponsored training:
Blueprint Reading: March 4-8/19
Rigging: March 11-15 /19
Prestressed/post tensioning: March 25-29/19

To be eligible for this training you need to be unemployed and EI eligible.

Apprentices will need to be registered with Department of Advanced Education, Skills & Labour.

For apprentices who are working, a letter from your employer stating the reasons why this course would be beneficial to you is required.

For Journeyman - you need to hold a Journeyman Red Seal Qualification - which is not expired.

If you are interested in these courses please call the Training center at 747-2158 by Thursday January 31/19 to have your name placed on the list.

Results of CLRA Collective Agreement Ballot Count

(held Friday, November 16th at the Ironworker's Union Hall):


1445 Ballots sent out to Journeyman, Honorary
and Lifetime Honorary Members.

397 Ballots were returned as of November 16th, 2018


357 Yes

32 No

8 Spoiled

397 Total
NOTICE

Please be advised that as per instructions received from Ironworker's International, in Washington, effective July 1st, 2018, we will not be able to accept cash for payment of union dues. We will continue to accept dues by cheque, money order, visa or debit. We are in the process of working on a system so we can accept dues through electronic payments. We will update you on this as soon as it is put in place. We apologize for any inconvenience this may cause our members.

Click to view notice from Ironworker's International
Just a reminder that the application period for our RJW BURSARY PROGRAM will be closing on November 22, 2017. Please be sure to get your applications in before this date at www.rjwbursary.com. This application is open to students currently attending a post-secondary academic institution on a full time basis for the 2017-2018 academic year and you are a child of a union member whose local union has within its jurisdiction a General President's Maintenance or National Maintenance Agreement

RESULTS OF WEST WHITE ROSE PROJECT AGREEMENT VOTE

(HUSKY – ARGENTIA)

Counting of ballots took place on Friday, August 18th, 2017

580 BALLOTS CAST

470 – VOTED YES (81.03% OF VOTES)
109 - VOTED NO (18.79% OF VOTES)
1 - SPOILED BALLOT (0.18% OF VOTES)




THANK YOU TO ALL MEMBERS FOR TAKING THE TIME TO VOTE ON THIS AGREEMENT.



RESULTS OF ELECTION OF DELEGATES
TO THE 43RD INTERNATIONAL CONVENTION

BY ACCLAMATION:

TOM WOODFORD
LARRY HAWCO
FRED WOODFORD

ELECTED:
WILLIAM COSTIGAN
GERALD LANE
DION HUMPHREY
DON DALTON
ROBERT GUSHUE


Please be advised that the phone number to reach the Ironworkers Education and Training Co. Inc. is (709)747-2158.
IRONWORKER'S LOCAL 764 EXECUTIVE
RESULTS OF ELECTION HELD JUNE 1, 2014




PRESIDENT

: LARRY HAWCO



VICE PRESIDENT

: BILL COSTIGAN



BUSINESS MANAGER/FST

: TOM WOODFORD



BUSINESS AGENT

: Francis Simms



RECORDING SECRETARY

: GERALD LANE

EXECUTIVE COMMITTEE:
DON DALTON
ROBERT (BOB) GUSHUE
JOE LEWIS
SHAWN WHELAN
CHAD WALSH



RESULTS OF VOTES:
President: Larry Hawco (539) William Cole Jr. (175)
Vice-President: Bill Costigan (535) Ricky Lewis (170)
Business Manager/FST: Tom Woodford (by acclamation)
Business Agent: Fred Woodford (387) Dion Humphrey (194) David Lewis (145)
Recording Secretary: Gerald Lane (by acclamation)
Executive Committee: Don Dalton (456) Robert (Bob) Gushue (421) Bren Lewis (374) Francis Simms (358) Chad Walsh (344) Michael Woodford (331)
Jim Fewer (269) Bryan Walsh (220) Pat Walsh (180)


1-855-747-2111
Toll Free
To View Jobs, click: Job Line Positions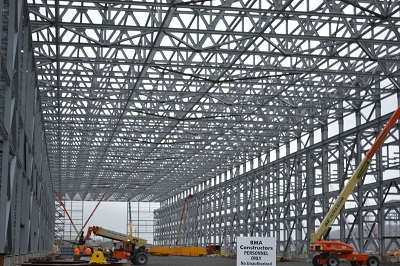 New e-mail address:
info@ironworkerslocal764.com
All e-mails with respect to job request, union requirements, and payments must be sent to this new e-mail address
OUT-OF-WORK LIST
It is the responsibility of members to phone the union hall (709-747-2111) and report to the staff when they have been laid off from work. It is only at this time will you be placed back on the out-of-work list. There have been numerous times when a member has posted in for work, and we found that they were not on the list. We have posted the out-of-work list at the union hall for any member who wishes to check and see if they are on the list.