What's New
NOTICE OF MONTHLY MEETING OF THE
IRONWORKERS LOCAL 764
CHANGE OF DATE


Please note that this month's meeting
will be changed from June 10th
to June 17th, at 8:00 p.m.


Meeting location:
Ironworker's Local 764 Union Hall
38 Sagona Avenue, Mount Pearl, NL

Please note that the 2014 union dues receipts have been sent out to members. This Year, the union receipt only includes what was paid personally by the member. The union/field dues paid by an employer will be on the corporate T4 from that company. When preparing income tax returns, include the union dues receipt plus any corporate T4's from any company you worked for in 2014 tax year to total all union/field dues paid on your behalf. If you did not pay any dues personally to the local hall, you will not be receiving a receipt from us.

Local 720 in Edmonton has secured two large projects:
At Ft. Hills which is currently hiring. The work at Ft. Hills consists of two large Crushers over a kilometer of conveyors and a Surge plus three more conveyors that run from the surge to the main plant. They are looking at over 11000 metric tons of structural steel to erect.

At CNRL they have a massive Surge plus conveyors to the main plant which is over 7000 metric tons. In addition to these two jobs they have ongoing maintenance work at CNRL (130+ men) and a lot of work at Shell site. The job durations should be in excess of 12 months.
If interested in this work, please monitor the job line of Local 720 website or contact Harry Tostowaryk @ 780-577-5360 or 780-469-1258
Please be advised that the phone number to reach the Ironworkers Education and Training Co. Inc. is (709)747-2158.
IRONWORKER'S LOCAL 764 EXECUTIVE
RESULTS OF ELECTION HELD JUNE 1, 2014




PRESIDENT

: LARRY HAWCO



VICE PRESIDENT

: BILL COSTIGAN



BUSINESS MANAGER/FST

: TOM WOODFORD



BUSINESS AGENT

: FRED WOODFORD



RECORDING SECRETARY

: GERALD LANE

EXECUTIVE COMMITTEE:
DON DALTON
ROBERT (BOB) GUSHUE
BREN LEWIS
FRANCIS SIMMS
CHAD WALSH



RESULTS OF VOTES:
President: Larry Hawco (539) William Cole Jr. (175)
Vice-President: Bill Costigan (535) Ricky Lewis (170)
Business Manager/FST: Tom Woodford (by acclamation)
Business Agent: Fred Woodford (387) Dion Humphrey (194) David Lewis (145)
Recording Secretary: Gerald Lane (by acclamation)
Executive Committee: Don Dalton (456) Robert (Bob) Gushue (421) Bren Lewis (374) Francis Simms (358) Chad Walsh (344) Michael Woodford (331)
Jim Fewer (269) Bryan Walsh (220) Pat Walsh (180)


NOTICE OF MONTHLY MEETING OF THE
IRONWORKERS LOCAL 764
Meeting location:
Ironworker's Local 764 Education and Training Centre
38 Sagona Avenue, Mount Pearl, NL
June 11th at 8:00 p.m.
Summary of Pension Benefit Changes
January - 2013
2014 INCOME TAX RECEIPTS
1-855-747-2111
Toll Free
To View Jobs, click: Job Line Positions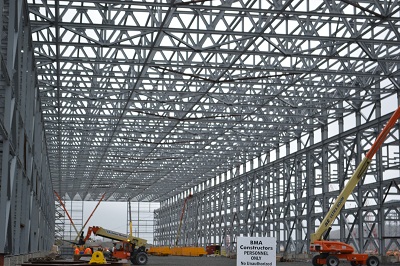 New e-mail address:
info@ironworkerslocal764.com
All e-mails with respect to job request, union requirements, and payments must be sent to this new e-mail address
OUT-OF-WORK LIST
It is the responsibility of members to phone the union hall (709-747-2111, ext. 221) and report to the staff when they have been laid off from work. It is only at this time will you be placed back on the out-of-work list. There have been numerous times when a member has posted in for work, and we found that they were not on the list. We have posted the out-of-work list at the union hall for any member who wishes to check and see if they are on the list.