Results of CLRA Collective Agreement Ballot Count


(held Friday, November 16th at the Ironworker's Union Hall):



1445 Ballots sent out to Journeyman, Honorary
and Lifetime Honorary Members.


397 Ballots were returned as of November 16th, 2018



357 Yes

32 No

8 Spoiled

397 Total

NOTICE

Please be advised that as per instructions received from Ironworker's International, in Washington, effective July 1st, 2018, we will not be able to accept cash for payment of union dues. We will continue to accept dues by cheque, money order, visa or debit. We are in the process of working on a system so we can accept dues through electronic payments. We will update you on this as soon as it is put in place. We apologize for any inconvenience this may cause our members.

Click to view notice from Ironworker's International
Job Opportunity

Field Organizer Easter Canada
Just a reminder that the application period for our RJW BURSARY PROGRAM will be closing on November 22, 2017. Please be sure to get your applications in before this date at www.rjwbursary.com. This application is open to students currently attending a post-secondary academic institution on a full time basis for the 2017-2018 academic year and you are a child of a union member whose local union has within its jurisdiction a General President's Maintenance or National Maintenance Agreement
Are you 50 years or over and planning your RETIREMENT?
Local 764 invites you and your spouse to attend a retirement information session, to be held November 7th, which will help you understand your pension plan and retirement options.
This information session will take place at either our Union Hall or other venue in the area, depending on the number of people interested in attending. If you are interested, please advise our office by either calling and speaking to someone at the desk, or leave your name and how many will attend on the answering machine (call us at 747-2111 at any time), or you can send in this information by e-mail to info@ironworkerslocal764.com. This will be a very informative session, and anyone needing information regarding their pension, should make an effort to attend.
NOTICE FROM THE NL BUILDING CONSTRUCTION TRADES COUNCIL
Post-Secondary Entrance Scholarship
We are pleased to announce a Scholarship Program to support building Trades members who have dependents attending post-secondary education.
We will award five (5) $2000 university/trades entrance scholarships to a dependent of a member (in good standing) of one of the 16 NL Building Trades Unions.
The scholarships are open to individuals who:
* are residents of Newfoundland and Labrador;
* have completed high school in 2017;
* Have an 80 per cent or greater average in their final two years of high school;
* are enrolled full-time for the Fall 2017 academic term at a recognized Canadian post- secondary institution.
Completed application forms must be submitted by October 13, 2017 and must include an official high school transcript.
Further information/application package available by e-mailing Renee Fitzgerald: Rfitzgerald@nlbtc.com, or from a local building trades union office.

Please note that the parking lot at the Ironworker's Hall is under construction and you are unable to park in the lot for the next couple of weeks.

Please park at the Ironworker's Education and Training Centre's parking lot at 7 Kyle Avenue (just down the road from the hall) and come down through the back.

We apologize for the inconvenience this may cause our members.


RESULTS OF WEST WHITE ROSE PROJECT AGREEMENT VOTE

(HUSKY – ARGENTIA)

Counting of ballots took place on Friday, August 18th, 2017

580 BALLOTS CAST

470 – VOTED YES (81.03% OF VOTES)
109 - VOTED NO (18.79% OF VOTES)
1 - SPOILED BALLOT (0.18% OF VOTES)




THANK YOU TO ALL MEMBERS FOR TAKING THE TIME TO VOTE ON THIS AGREEMENT.



NOTICE TO LOCAL 764 MEMBERS
A mail-in ballot has been mailed out to all Journeyman, Honorary, and Lifetime Honorary Members of Local 764. Please take the time to read over the Executive Summary and Wage Schedule which is included in the mailout. We have attached a link to this summary along with a complete copy of the Proposed West White Rose Project Agreement for your review. These ballots will be counted on August 18th, 2017. We encourage all members to return your ballot to the Union Hall in the self-addressed stamped envelope provided.
Executive Summary of Proposed West White Rose Project Agreement And Wage Schedule
RESULTS OF ELECTION OF DELEGATES
TO THE 43RD INTERNATIONAL CONVENTION

BY ACCLAMATION:

TOM WOODFORD
LARRY HAWCO
FRED WOODFORD

ELECTED:
WILLIAM COSTIGAN
GERALD LANE
DION HUMPHREY
DON DALTON
ROBERT GUSHUE


2015 UNION TAX RECEIPTS

Please note that the 2015 union dues receipts have been sent out to members. The union receipt only includes what was paid personally by the member. The union/field dues paid by an employer will be on the corporate T4 from that company. When preparing income tax returns, include the union dues receipt plus any corporate T4's from any company you worked for in the 2015 tax year to total all union/field dues paid on your behalf. If you did not pay any dues personally to the local hall, you will not be receiving a receipt from us.

Please be advised that the phone number to reach the Ironworkers Education and Training Co. Inc. is (709)747-2158.
IRONWORKER'S LOCAL 764 EXECUTIVE
RESULTS OF ELECTION HELD JUNE 1, 2014




PRESIDENT

: LARRY HAWCO



VICE PRESIDENT

: BILL COSTIGAN



BUSINESS MANAGER/FST

: TOM WOODFORD



BUSINESS AGENT

: Francis Simms



RECORDING SECRETARY

: GERALD LANE

EXECUTIVE COMMITTEE:
DON DALTON
ROBERT (BOB) GUSHUE
JOE LEWIS
SHAWN WHELAN
CHAD WALSH



RESULTS OF VOTES:
President: Larry Hawco (539) William Cole Jr. (175)
Vice-President: Bill Costigan (535) Ricky Lewis (170)
Business Manager/FST: Tom Woodford (by acclamation)
Business Agent: Fred Woodford (387) Dion Humphrey (194) David Lewis (145)
Recording Secretary: Gerald Lane (by acclamation)
Executive Committee: Don Dalton (456) Robert (Bob) Gushue (421) Bren Lewis (374) Francis Simms (358) Chad Walsh (344) Michael Woodford (331)
Jim Fewer (269) Bryan Walsh (220) Pat Walsh (180)


1-855-747-2111
Toll Free
To View Jobs, click: Job Line Positions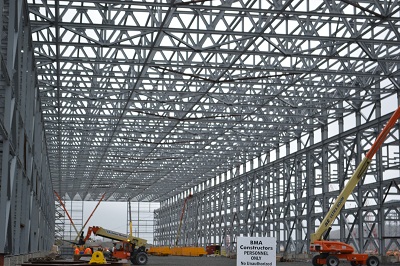 New e-mail address:
info@ironworkerslocal764.com
All e-mails with respect to job request, union requirements, and payments must be sent to this new e-mail address
OUT-OF-WORK LIST
It is the responsibility of members to phone the union hall (709-747-2111, ext. 221) and report to the staff when they have been laid off from work. It is only at this time will you be placed back on the out-of-work list. There have been numerous times when a member has posted in for work, and we found that they were not on the list. We have posted the out-of-work list at the union hall for any member who wishes to check and see if they are on the list.